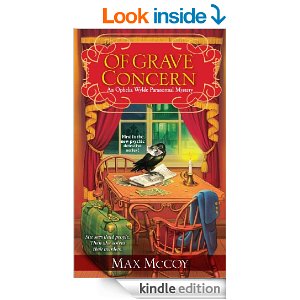 OF GRAVE CONCERN has been named a 2014 Kansas Notable Book, I learned today from the State Library of Kansas. An official announcement, and a list of all winners, will follow next week. There was also be a ceremony Saturday, Sept. 13, in Topeka.
I'm pleased, and honored.
A few years ago, I won the same award with a very different novel, HELLFIRE CANYON. Although both stories are set in the Old West, that's where the similarity ends. Jacob Gamble, the protagonist of the Hellfire books, is an outlaw who's been on the run since the age of 14, and the trilogy goes from the Civil War to the 1930s. Gamble is a fiddle-playing antihero who embraces violence as a means to protect the weak and earn some measure of justice in a wicked world. Ophelia Wylde abhors guns, travels with a pet raven, and is a former con woman who has turned psychic detective, and she believes in a benevolent universe.
If they ever meet each other–and I'll make sure that never happens–they would hate one another.
More details on the Kansas Notable Book award as they become available.
RSS feed for comments on this post. TrackBack URI