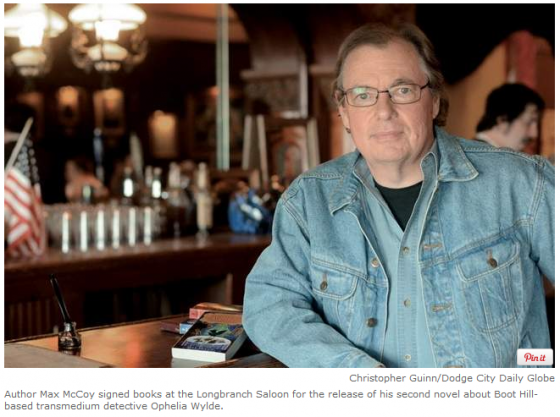 CHRISTOPHER GUINN of the Dodge City Daily Globe interviewed me in the Long Branch Saloon at Boot Hill during the launch for the second novel in the Ophelia Wylde paranormal mystery series last month for a feature story.
I'm a difficult subject, as recovering journalists tend to be, but Christopher did a great job. He asked difficult questions, was a good listener, and came to the interview having done his homework. It was encouraging. I would like to say he reminded me of myself, when I first starting working for daily newspapers, but the truth is that Christopher may be better. More likeable, certainly.
I'm a little (well, a lot) late posting about it, but things have hectic this summer. I've always felt that my job was to write, and not do continual self-promotion (my publisher would probably disagree), and frankly it's difficult for me to always be blogging or tweeting or whatever to convince readers to buy my books. It just feels hollow. It's not that I don't believe in the books–I believe strongly in Ophelia Wylde and her world, and apparently there are many readers who do as well. Some authors, I know, pay someone else to blog for them, but for me that's out of the question. So, if you wonder why there are big chronological gaps in the blog, the reason is that I'm working on Ophelia's next adventure.