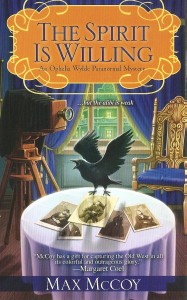 PLEASE JOIN ME in celebrating the release of the new Ophelia Wylde paranormal mystery, THE SPIRIT IS WILLING, at a launch party and signing at the Boot Hill Museum in Dodge City. The event, which lasts from 2 to 4 p.m., will kick off with a brief presentation about the paranormal and the Old West.
Last year at about this time, the first Ophelia Wylde novel, OF GRAVE CONCERN, made it's debut at Boot Hill. It was only fitting, because the books are set in Dodge City in 1877-78. While the books are, of course, fiction, there is quite a bit of historical research that has gone into each. In the new book, Ophelia takes a jaunt to Denver and Leadville, Colo., on the trail of a murderer.
Many thanks to Brent Harris, the marshal of Boot Hill, for making this possible.
Even if  Brent's name doesn't ring a bell, I'll bet you know his face — Brent is the iconic, mustachioed western lawman that is featured on much of the publicity surrounding Boot Hill. As I have come to know Brent during the past year, I was delighted to discover that in addition to being famous, he's a genuinely nice guy.
Brent is pictured, below left. Click on the photo and it will take you to his Facebook  page.
So, stop by Boot Hill on July 5 and meet Brent. He's one of the good guys. I'll be there, too, talking about the research I did for the books, signing books, and doing a quick cartoon in the front of each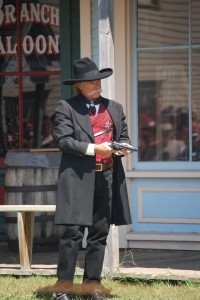 one. It's something I started last year with the Ophelia books, and the cartoons have been a hit. It takes more time than just singing them, but fans seem to like it. The cartoons vary, but typically feature Ophelia's pet raven.
I'm a terrible artist, but at least the cartoons are much more personal and heartfelt than just scrawling "Best Wishes" or something similar.  Come to think of it, I should start grabbing photos of some of the better–meaning least awful–cartoons and posting them here.