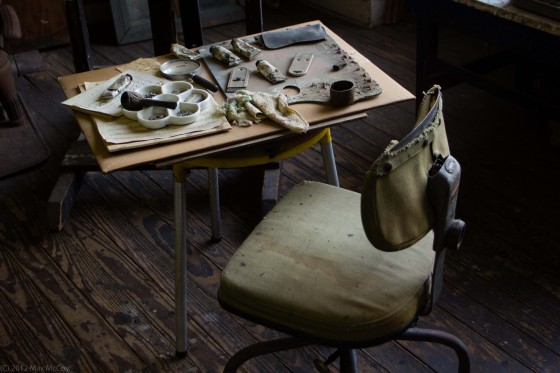 AMONG THE PLEASURES of research is encountering the unexpectedly profound. The photo above was taken yesterday at Thomas Hart Benton's studio in Kansas City, Mo., which (according to tour guide Evadene, below) remains just as he left it upon his death nearly 38 years ago. The assortment of things on his desk gave me chills: his pipe, some eye bolts, a magnifying glass, razor blades, tubes of paint, and music manuscript paper with a melody written in pencil. The desk itself is supported by the legs of a barbecue tripod. Benton made the studio out of one half of the carriage house behind the home at 3616 Belleview. He had an 8- by 12-foot panel of windowpanes installed to catch the northern light, which is particularly beautiful in winter. Benton died here on Jan. 19, 1975, after completing — but not signing – -his last mural, "The Sources of Country Music."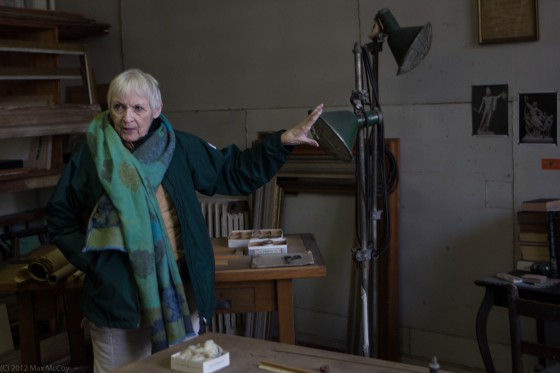 BENTON AND HIS FAMILY lived here from 1939 to 1975. The residence is now the "Thomas Hart Benton Home and Studio State Historic Site," run by the Missouri Department of Natural Resources, and for four bucks you can get a sense of what home life was like for Missouri's most famous artist. If you take the formal tour, the padlock to the carriage house will be removed and you can see where Benton painted many of his most famous works.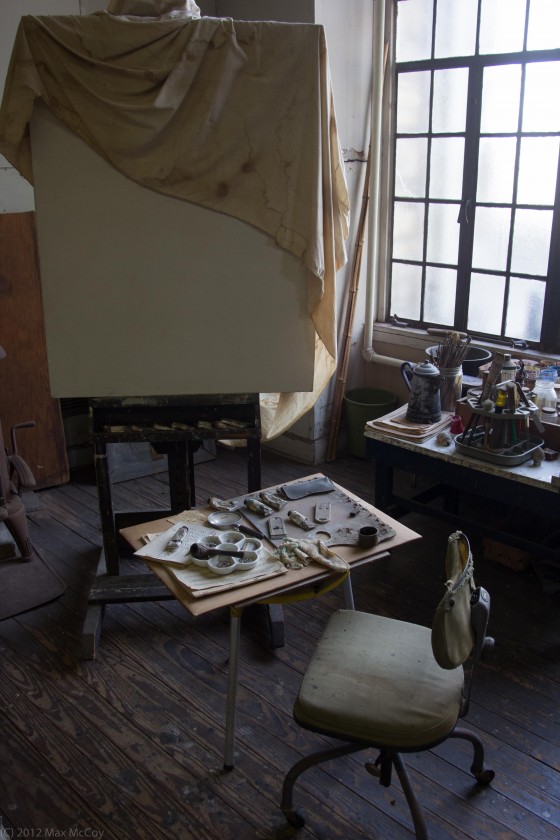 THE STAIRWELL winds around the fireplace in the center of the house. The kitchen is through the dining room, and if you ask politely you might get a copy of Rita Benton's spaghetti recipe. The small table to the left of the dining table served as the bar. There were a number of spirits represented, but no bourbon; Evadene said Benton drank it all.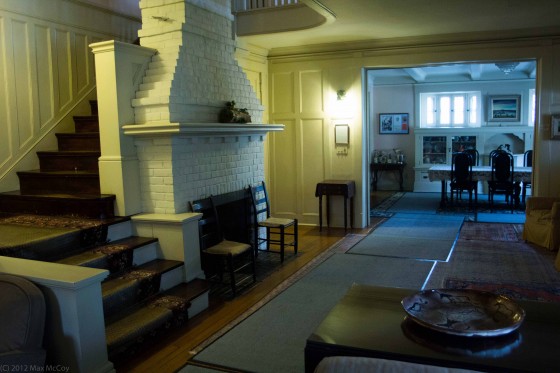 THE SECOND FLOOR landing seemed the warmest place in the house. Perhaps it was the copy of the early portrait Benton painted of himself and Rita at the beach, which hoevers over a collection of National Geographics and a 1970s color television. It was Sunday, so I half expected the "Wonderful World of Disney" on the old set. I was told, however, that Benton didn't watch much television.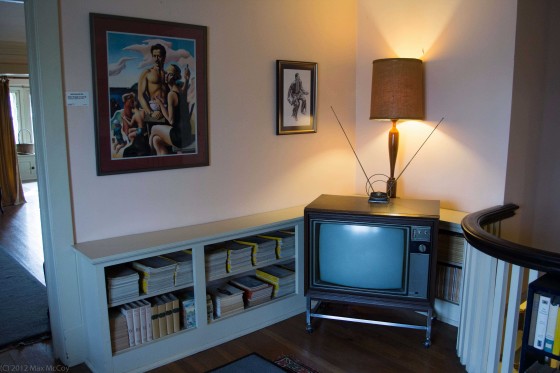 BENEATH A WINTER SKY, the Benton home presides fortress-like over a quiet residential neighborhood. Parking is street only. Like many American artists, Benton — the son of a congressman and nephew of a legendary Missouri senator — once studied in Paris. Throwing off the shackles of the academy, however, Benton established himself as a leading proponent of  Regionalism (along with Grant Wood and Kansan John Steuart Curry).  Benton's work, which often depicts the dark side of American history as a rustic form of Greek tragedy, is still inspiring debate. For those interested in visiting his home and studio, here's a link to the site. When you go, ask for Evadene.