Ophelia Wylde is a detective who solves murders by talking to the only witnesses who never lie -- the dead.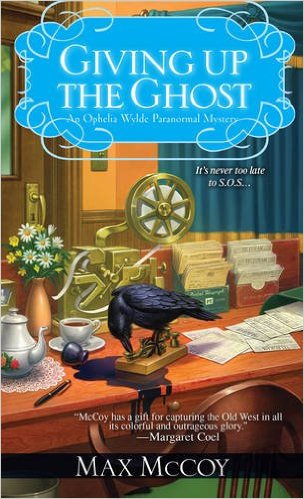 GIVING UP THE GHOST is the newest Ophelia Wylde paranormal mystery.
From sea to shining sea, the invention known as the telegraph would tame the American frontier. But for psychic detective Ophelia Wylde, the wild west is about to get wilder…

MESSAGES FROM BEYOND?
 
When telegraph keys across the country begin bursting into flames—and chattering ghostly nonsense—the terror and turmoil is enough to bring the railways, banks, and news industry to a standstill. There's only one person they can turn to: Ophelia Wylde, a young widow turned detective who has famously brought murderers to justice—by speaking to their victims on the other side. Are the recent telegraph mishaps a message from beyond? Ophelia's not sure, but the fact that the key's last operator, Lightning "Hapless" Hopkins, has been poisoned is enough to raise her darkest suspicions. It's up to Ophelia to unravel the riddle of the ghostly wire tap, solve the murder of Hapless Hopkins, and expose the secret history of the telegraph's little-known co-inventor…before her own life is on the line.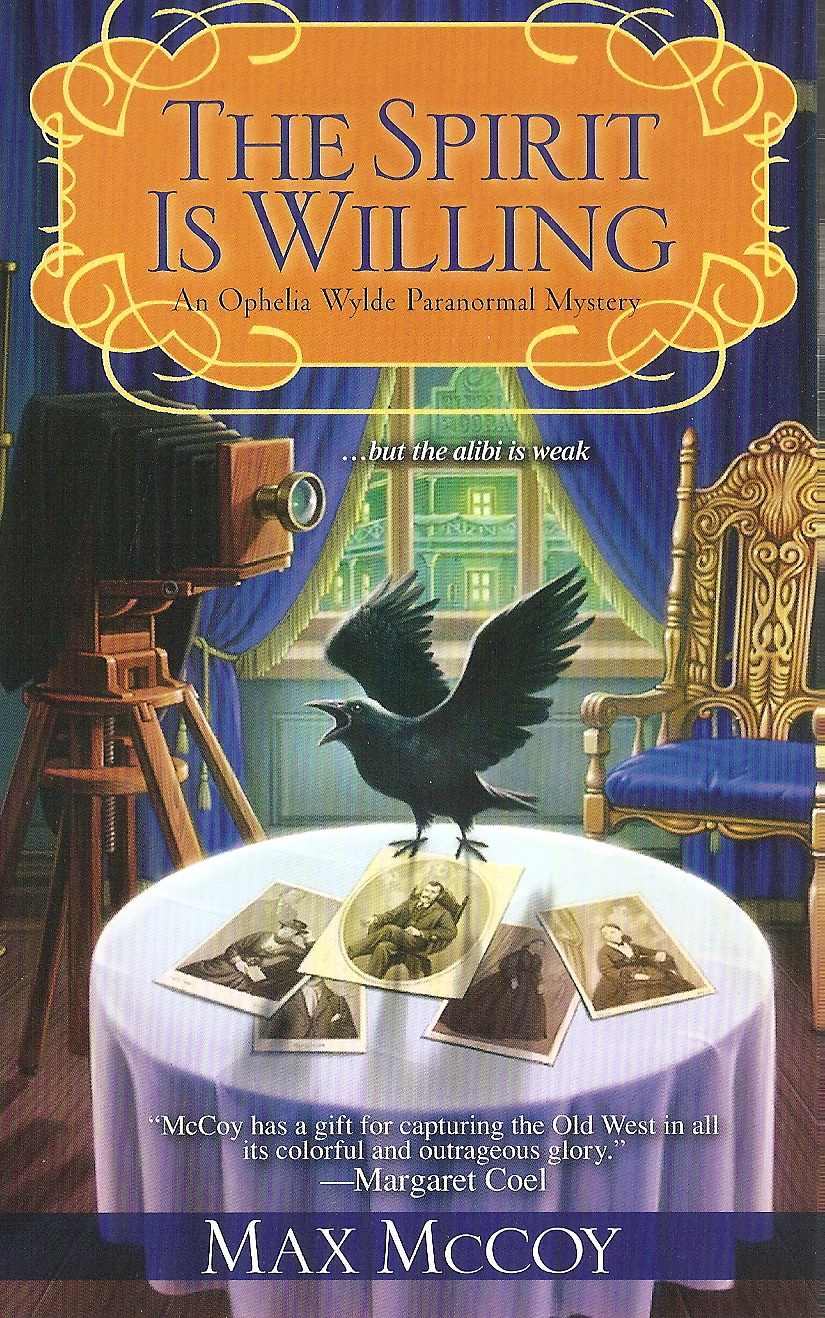 OF GRAVE CONCERN was named a 2014 Kansas Notable Book! The awards are presented annually for 15 notable books created by Kansans, or which are about Kansas, and is a program of the State Library.The awards are organized by the Kansas Center for the Book, a state affiliate of the Center for the Book in the Library of Congress.
"Even if you're put off by first-person narratives or paranormal elements in mysteries, McCoy will change your mind with an entrancing, fascinating book with riveting characters. He draws you into his world, and you'll want to explore all his books after delving into this one." -- Page Traynor, RT Book Review, 4.5 stars, TOP PICK
"An entertaining romp through 1877 Dodge City with quirky, off-beat characters that would make Mark Twain proud. Max McCoy has a gift for capturing the Old West in all its colorful and outrageous glory. I couldn't put this imaginative page-turner down. ophelia Wylde, the delightful psychic who fancies herself a detective, must returns!" -- Margaret Coel, New York Times best-selling author of Buffalo Bill's Dead Now.
"McCoy creates a gripping story as he blends the rugged West with the Victorian's paranormal fascination... (Ophelia Wylde) is one of my new favorite Western characters." -- Sherry Monahan, contributing editor True West magazine.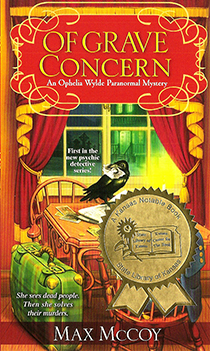 "OF GRAVE CONCERN is Stephen King Meets David Morrell Meets Bram Stoker Meets Charles Portis, but it's all Max McCoy, all original, and definitely all fun. The 'spirit sensitive'  Ophelia Wylde might be McCoy's greatest character, and Wylde's West promises to be a one-of-a-kind, hell-raising series." -- Johnny D. Boggs, Spur Award-winning author of West Texas Kill and Legacy of a Lawman.
"Max McCoy has created something brand new with Ophelia Wylde. She's the most original new character in many years. This is not just a great mystery; the historical aspect is perfectly integrated and the connection to spiritualism and the paranormal adds a whole new dimension. What an extraordinary piece of work – and the start of a major new series! " – C. Courtney Joyner, author and popular culture historian.
"You're in for a wonderful ride.  Max McCoy has few peers as a storyteller and OF GRAVE CONCERN is another masterpiece of writing.  This will grab you and won't let go." -- Cotton Smith, author of Ride For Rule Cordell.
"A thunderous Hurrah for novelist Max McCoy's stunningly luminous journey into the paranormal. OF GRAVE CONCERN is a beautifully written a saga, set in the early days of Dodge City, of devilment and redemption, in an 1877 West defining itself out of mud, witless violence, mud, provisional habitations, and aspirations toward nobility of purpose. The narrator is a charming, brave, and clever medium, Ophelia Wylde, a complex and independent woman (a cosmopolitan and a naïf, a cynic and an innocent, worldly yet spiritual,vulnerable but hardy). Max McCoy, owner of a painter's eye and a poet's ear, a master story teller, stands mountain-tall and singular among our best writers. McCoy's OF GRAVE CONCERN is first-rate fiction, a page-turner in the best sense!" -- Red Shuttleworth, Spur Award-winning author of Johnny Ringo.
Max McCoy is an award-winning author and journalist. He's written four original Indiana Jones adventures for Lucasfilm, the critically acclaimed thrill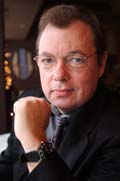 er The Moon Pool, and the Hellfire western noir trilogy.Damnation Road, the last book in the trilogy, won the 2011 Spur Award from the Western Writers of America for Best Novel. Hellfire Canyon, the first book in the trilogy, also won the Spur and was named a Kansas Notable Book.
Max wrote the novelization for Steven Spielberg's epic miniseries, Into the West.His books have been published by Random House, Simon and Schuster, and Kensington. He teaches at Emporia State University.
Of Grave Concern
It's the spring of 1877 and Ophelia Wylde is a woman on the run. Driven from Chicago for having almost conned a noted industrialist out of a few thousand dollars through a series of spectacular but fake séances, she takes the first train west and finds herself in Dodge City. The rough-hewn cattle town has never seen anyone like Ophelia, a diminutive red-haired spiritualist with a Southern twang who travels with a pet raven and claims to talk to the dead. But when Ophelia's confronted with the real ghost of a murdered girl , she discovers her talents are greater than she ever pretended -- and teams up with Dodge City's most notorious bounty hunter to track down the killer.
Of Grave Concern is the first Ophelia Wylde paranomral mystery. Now available at bookstores everywhere.
INDIANA JONES
Max is the author of four original Indiana Jones novels, licensed by Lucasfilm and published by Bantam. They have sold in the hundreds of thousands and have been praised by fans for matching the style and tone of the movies, while adding original touches and flourishes that Max's readers have come to love.The novels have become part of the Indiana Jones canon and begin with Indiana Jones. All are prequels to Raiders of the Lost Ark.
Damnation Road
Winner of the Spur Award for Best Novel from the Western Writers of America
It's the last chance for Jacob Gamble, Rough Rider, outlaw, and man of few principles. Nearing 50 and flat broke, Jacob bends his own rule about robbing trains. But by the time he reaches the payroll safe on a Rock Island train, he finds another thief there first with a bullet in his head. Jacob is caught holding the bag--and turned into a hero. A broke hero.

Shackled by unwanted fame, running from a life gone wrong, and raising the suspicions of a Pinkerton detective, Jacob listens to a woman: beautiful and tattooed by the Indians who seized her as a child. Anise Weathers knows of a treasure hidden in a cave along the Jornada del Muerto--a merciless hundred mile stretch of hell on earth guarded by Apache warriors. Now, Jacob will follow Anise into the most savage and deadly territory in the southwest—where few ever leave Damnation Road alive.
Other titles in Hellfire trilology include Hellfire Canyon and Canyon Diablo.